Information technology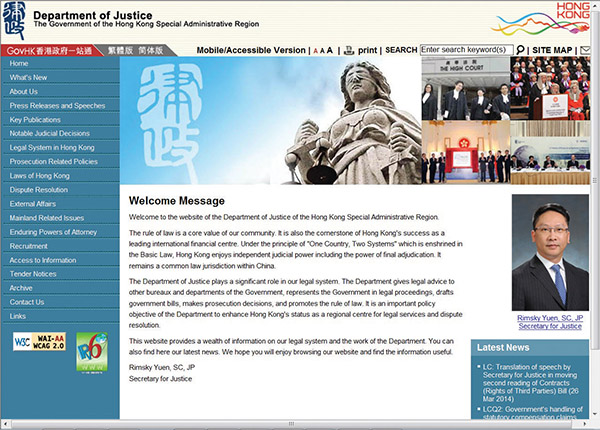 The Information Technology Management Unit is responsible for managing the Department's IT systems and information resources. This includes the maintenance and periodic upgrade of existing IT systems, implementation of new projects and planning for future IT needs.
The unit also provides helpdesk services to provide various IT related services and handle requests from users. It provides training to colleagues on the proficient use of the Department's IT systems.
The Department's information technology facilities
The Department's network links around 1 200 users across 26 different floors and separate locations. All permanent staff in the Department have access to either dedicated or shared personal computers equipped with modern office automation functions for word-processing, document management, printing, fax, electronic mail and internet access. Remote access to the Department's network and facilities is available.
Bilingual Laws Information System (BLIS): This system enables users to view and search HKSAR's legislation in both Chinese and English. BLIS is available free to the public on the internet in three versions, including English, traditional Chinese and simplified Chinese. BLIS has proved to be very popular since its introduction and has now an average of around 6 300 "hits" per day. The contents of BLIS can also be displayed in a user-friendly way on popular mobile devices.
Department of Justice website: This website provides a wealth of information on our legal system and the work of the Department. The public can find information regarding the latest news of the Department. To tie in with the government-wide Web Accessibility Campaign, the Department's homepage, BLIS and its related websites were revamped in 2013 to adopt the latest version (Version 2.0) of World Wide Web Consortium Web Content Accessibility Guidelines Level AA standard with a view to enhancing user-friendliness.