Social activities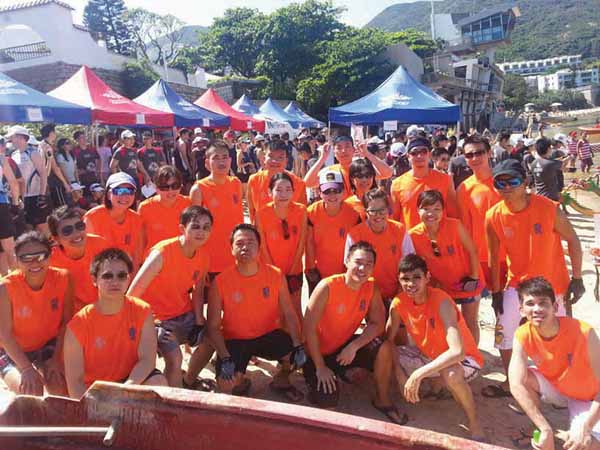 Staff taking part in the Dragon Boat races
Two organisations within the Department, the Staff Club and the Mess, provide staff with a range of social activities to help enhance team spirit and interaction among colleagues.
Department of Justice Staff Club
The Staff Club aims to promote friendship and a sense of belonging among serving and former staff of the Department.
The Staff Club is run by an Executive Committee composed of representatives from different levels of officers in the Department. It organises various activities every year, including interest classes on tai-chi, yoga, dancing, flower arrangements, etc, annual events such as Christmas lunch party and spring dinner, as well as outdoor visits and volunteer services.
In 2012 and 2014, the Staff Club took part in the Corporate Games. Participants enjoyed the support and companionship of fellow colleagues in the various events enrolled, and competed in the Games with admirable endeavours, and getting gratifying results including numerous championships and medals in swimming (2012 & 2014), snooker (2012) and tennis (2014).
---
The Department of Justice Mess
The Mess provides a place for counsel to discuss cases and other matters which concern them during the working day, and to relax in friendly surroundings after office hours.
There is a Mess Committee which organises various functions and activities to foster an environment of collegiate support.
A tradition has been maintained whereby departing members entertain colleagues to drinks and light refreshments in the Mess and are presented with a memento such as a personally engraved mug or plaque. From time to time, the Prosecutions Division also hosts Mess Nights, to which judges and lawyers in private practice are invited. Members also "ring the bell" when there are occasions providing sufficient cause for celebration, such as promotions and important appointments.