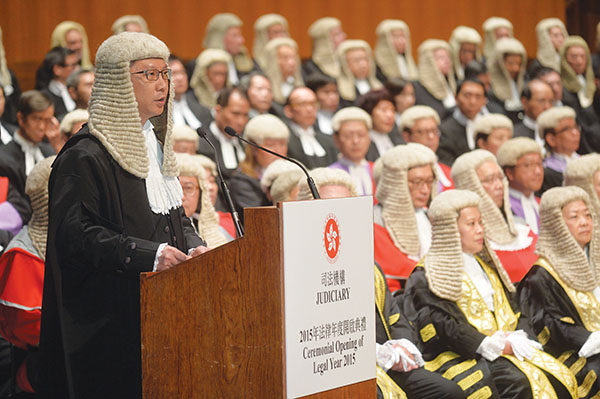 The role of the Secretary for Justice
The Department of Justice is headed by the Secretary for Justice, whose paramount duty is to maintain the rule of law. As one of the Principal Officials of the HKSAR Government, the Secretary for Justice discharges a wide range of duties. Chief among these is to act as the principal legal adviser to the Chief Executive, to the HKSAR Government and to government bureaux, departments and agencies. The Secretary for Justice is also a member of the Executive Council.
Under Article 63 of the Basic Law, the Department of Justice shall control criminal prosecutions free from any interference. As head of the Department, this constitutional duty to control criminal prosecutions, including the decision to prosecute criminal offences, is discharged by the Secretary for Justice independently. The Secretary for Justice is also named as the defendant in all civil actions brought against the Government and represents both the Government and the public interest in legal proceedings.
As guardian of the public interest in a wider sense, the Secretary for Justice may in appropriate case make application for judicial review to enforce public legal rights. The Secretary may also intervene in any case involving a matter of great public interest. The Secretary represents the public interest as counsel to tribunals of inquiry. The Secretary is the Protector of Charities and must be joined as a party in all actions to enforce charitable or public trusts. The Secretary also has a more general public interest role as amicus curiae (friend of the court), the most important example of which is bringing alleged contempts of court to the notice of the courts.
Amongst many other functions, the Secretary for Justice is the ex-officio Chairman of the Law Reform Commission, Vice-Chairman of the Fight Crime Committee, and serves on the Chief Secretary for Administration's Policy Committee, the Judicial Officers Recommendation Commission and the Independent Commission Against Corruption's Operations Review Committee.