Training initiatives
Since 2012, Dr Simon Alderson, a highly experienced and respected English teacher, was engaged to provide a training programme on plain English for counsel of the Division. The training programme comprised lectures with interactive discussions and drafting workshops. During the training sessions, counsel were given opportunities to review their work and attempt to make their sentences shorter, words simpler and meaning clearer.
The Criminal Advocacy Course is a training course organised by the Division for newly recruited legal trainees and Public Prosecutors. In 2012, an experienced criminal practitioner was engaged to update and expand the training materials with updated authorities, practical examples and tips. Every Public Prosecutor and Court Prosecutor has been provided with a copy of the new Manual. The revamped "Criminal Advocacy Course Manual" now serves as a user-friendly, yet comprehensive, handbook for prosecutors' ease of reference.
The understudy programme is a new initiative introduced in 2012 to provide a learning opportunity to junior counsel in the private bar to equip them with the skills and experience in prosecuting complex or sensitive cases. Under this arrangement, Senior Counsel or experienced junior counsel who are briefed to prosecute cases of some complexity or sensitivity can nominate a counsel with less than 10 years' experience to act as an understudy and to take part in the criminal proceedings as his or her junior at a fixed daily rate.
To better equip prosecutors with the knowledge and expertise in handling cases of animal cruelty, in January 2013, Ms Amanda Whitfort, Associate Professor, Faculty of Law, the University of Hong Kong, and Mr Tony Ho, Chief Officer Inspectorate of the Society for the Prevention of Cruelty to Animals, talked to Public Prosecutors and Court Prosecutors on the law and practice on this subject. Participants actively discussed and exchanged views in relation to legal issues concerning animal protection and welfare.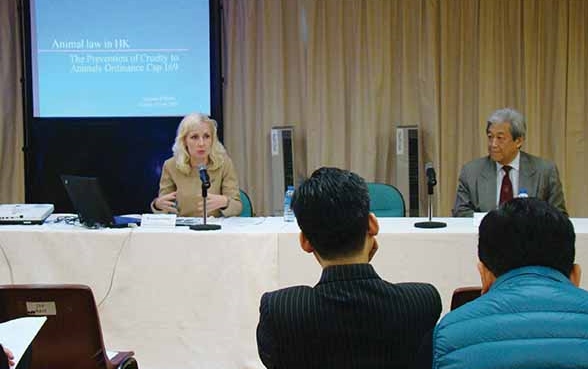 Ms Amanda Whitfort and Mr Tony Ho talk to prosecutors on animal law