Ms. Elsie Leung, GBM, JP, Deputy Director, HKSAR Basic Law Committee of Standing Committee of National People's Congress, and Member, Mainland Legal Affairs Committee, Law Society of Hong Kong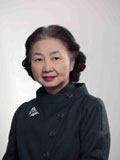 Ms. Elsie Leung, GBM, JP
Deputy Director, HKSAR Basic Law Committee of Standing Committee of National People's Congress, and Member, Mainland Legal Affairs Committee, Law Society of Hong Kong
Ms Elsie Leung Oi-sie is the former Secretary for Justice and a past Member of the Executive Council of the Hong Kong Special Administrative Region Government (HKSARG).
Ms Leung, a native of Nanhai in Guangdong province, was admitted to the University of Hong Kong in 1961 where she had her legal professional training. In 1968, she qualified as a solicitor and started her private practice. She obtained an LLM Degree from the Faculty of Law of the University of Hong Kong in 1988 when such degree was awarded for the first time. Specializing in family law and China trade, she is a woman professional actively involved in community affairs. She played a key role in the establishment of the Hong Kong Federation of Women Lawyers in 1975, and was appointed a delegate to the Guangdong Provincial People's Congress in 1988, a delegate to the 8th National People's Congress in 1993 and a Hong Kong Affairs Advisor in 1994.
Before her appointment as Secretary for Justice, Ms Leung served on various government boards and committees, including the Independent Police Complaints Council, the Equal Opportunities Commission, the Social Welfare Advisory Committee and the Inland Revenue Board of Review. She is also a past President of the International Federation of Women Lawyers and the legal adviser to a number of non-government organisations. In the period leading up to Hong Kong's reunification with China, she advised the Chief Executive (Designate) on legal matters relating to the establishment of the HKSARG. On 1 July 1997, she became the first Secretary for Justice and a Member of the Executive Council of the HKSARG. She was re-appointed 5 years later, and retired in October 2005. In 2006, she was appointed the Deputy Director of the Basic Law Committee of the HKSAR. Having resumed private practice in late 2006, she is now a Consultant of Iu, Lai & Li Solicitors & Notaries, a notary public and a China-appointed attesting officer.
Ms Leung was awarded a Grand Bauhinia Medal for her "distinguished public service" in 2002. She was also awarded an Honorary Degree of Doctor of Law by both The University of Politics and Law, Beijing and The University of Warwick in 2004 and 2005 respectively.