Mr. Fred Lam, JP, Executive Director, Hong Kong Trade Development Council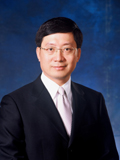 Mr. Fred Lam, JP
Executive Director, Hong Kong Trade Development Council
Mr Fred Lam is the Executive Director of the Hong Kong Trade Development Council (TDC), the statutory organisation responsible for promoting and developing Hong Kong's external trade.
Mr Lam heads an international team whose mission is to create and facilitate opportunities in international trade for Hong Kong-based companies. TDC, with its network of more than 40 offices in key business centres, is the global marketing arm of Hong Kong's small and medium-sized enterprises. TDC also markets Hong Kong internationally as the global platform for business in China and the Asia-Pacific.
Since joining TDC in 1986, Mr Lam has held key Directorate posts and spearheaded many promotional initiatives. From 1993 until early 2004, Mr Lam served as a Deputy Executive Director. He has worked closely with leaders of industry and service sector associations.
Mr Lam is a member of Greater Pearl River Delta Business Council, the SAR Chief Secretary's International Business Committee, the Financial Secretary's Economic and Employment Council, the Secretary for Commerce and Economic Development's Steering Committee on Innovation and Technology, the Secretary for Education's Steering Committee for Research Themes under the Research Endowment Fund, the Competition Policy Review Committee, the Hong Kong Logistics Development Council and the Hong Kong/Japan Business Co-operation Committee. He is also a member of the Hong Kong Tourism Board, the Aviation Development Advisory Committee, the Film Development Council and serves on the governing boards of the Hong Kong Design Centre and Hong Kong Q-Mark Council. He is a Justice of the Peace.
In 2007, Mr Lam was named 'Director of the Year' by the Hong Kong Institute of Directors under the category of statutory and non-profit-distributing organisations.
Born (1958) and raised in Hong Kong, Mr Lam graduated with a B.Sc (Engineering) in Computing Science from the Imperial College of Science and Technology at the University of London. In 1999, he completed the Stanford Executive Programme at Stanford University.
Mr Lam is married with two sons.