Mr. Neil Kaplan, CBE, QC, SBS, Past Chairperson, Hong Kong International Arbitration Centre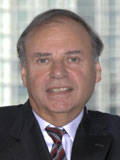 Mr. Neil Kaplan, CBE, QC, SBS
Past Chairperson, Hong Kong International Arbitration Centre
Neil Kaplan was Chairman of the Hong Kong International Arbitration Centre from 1991 – 2004 and was President of the Chartered Institute of Arbitrators from May 1999 until May 2000.
Mr. Kaplan is a full-time practising arbitrator with Chambers in both England and Hong Kong. From March 1990 until the end of 1994 he was a judge of the Supreme Court of Hong Kong. He was the judge in charge of the Construction and Arbitration list. From 1994 until the end of 1999 he was the Convenor of the Dispute Review Group for Hong Kong's new airport.
Mr. Kaplan was the Chairman of Hong Kong's WTO Review Body on Bid Challenges from 2000 – 2004 and is currently Chairman of Hong Kong's Telecommunications (Competition Provision) Appeal Board.
Mr. Kaplan was called to the Bar in England and Wales in 1965 and he practised in London until 1980 when he joined the Attorney General's Chambers in Hong Kong. In 1983 he commenced practice at the Hong Kong Bar having become a Queen's Counsel in 1982. Mr. Kaplan has also been admitted to the Victorian Bar in Australia and the New York Bar.
Mr. Kaplan has co-authored two books on arbitration in Hong Kong and China, published by Sweet & Maxwell, and has recently co-authored Model Law Decisions (published by Kluwer), a book on cases which apply the UNCITRAL Model Law on International Commercial Arbitration. He has also published many articles. Mr. Kaplan was General Editor of Arbitration in Hong Kong: A Practical Guide to Arbitration in 2003, published by Thomson/Sweet & Maxwell Asia. He is a Council member of the International Council of Commercial Arbitration (ICCA).
Mr. Kaplan is a Fellow of the Chartered Institute of Arbitrators and is a Chartered Arbitrator. He is also a Fellow of the Hong Kong Institute of Arbitrators and the Singapore Institute of Arbitrators as well as a panellist of several other arbitral institutions including CIETAC. He is a member of the LCIA, and has conducted LCIA arbitrations. He has conducted numerous ICC arbitrations. In all Mr. Kaplan has conducted arbitrations in at least 15 different jurisdictions in, England and Hong Kong, I have also conducted arbitrations in USA, Europe, France, Malaysia, Korea, Laos, Japan, Thailand, Singapore, Philippines, Dubai, Australia, Denmark and China.
In June 2001 Mr. Kaplan was awarded a CBE for services to international arbitration. In 2007 he was awarded the Silver Bauhinia Star by the Chief Executive of the Hong Kong SAR.
As of November 2009 Mr Kaplan became an International Arbitration Advisor to the Australian Firm Mallesons Stephen Jaques in their Hong Kong Office.