Mr. Wong Yan Lung, SC, JP, Secretary for Justice, Government of HKSAR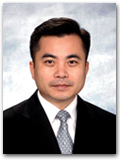 Mr. Wong Yan Lung, SC, JP
Secretary for Justice, Government of HKSAR
Mr Wong Yan Lung was appointed as Secretary for Justice in October 2005. Before his present appointment, he was a lawyer in private practice. He sat as Deputy High Court Judge of the Court of First Instance in July and August in 2003, and was a Council member of the Council of the Hong Kong Bar Association on multiple terms in the period between 1989 and 2005. He also served as Chairman of the Special Committee on Legal Education of the Hong Kong Bar Association from 2003 to 2005.
Mr Wong has served as Chairman of the Buildings Appeal Tribunal, of the Criminal and Law Enforcement Injuries Compensation Boards, and of the Non-local Higher and Professional Education Appeal Board. He has also served as Vice-Chairman of CEDAR Fund and Member of the Steering Committee and Volunteer of the Hong Kong Christian Concern for the Homeless.
Mr Wong graduated from Magdalene College, University of Cambridge in 1986 and was conferred Bachelor of Arts (Law) and Master of Arts (Law) Degrees. In 1987, he was called to the Bar in England & Wales and in the same year he was also called to the Bar in Hong Kong. He was appointed as Senior Counsel in Hong Kong in 2002 and Justice of the Peace in October 2005. He was elected as a Master of the Bench of Middle Temple in October 2007.