The Hon Ronald Arculli, GBM, GBS, JP, Senior Partner, King & Wood Mallesons, Hong Kong, Ex-Chairman, Hong Kong Exchanges and Clearing Limited (2006-2012), Chairman, World Federation of Exchanges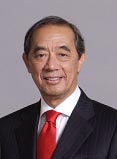 The Hon Ronald Arculli, GBM, GBS, JP,
Senior Partner, King & Wood Mallesons, Hong Kong, Ex-Chairman, Hong Kong Exchanges and Clearing Limited (2006-2012), Chairman, World Federation of Exchanges
Mr Ronald Arculli is the Senior Partner of King & Wood Mallesons Hong Kong, which is the Hong Kong office of one of the largest law firms in Asia. He also leads the World Federation of Exchanges ("WFE") as Chairman and Board Member. The WFE has over 50 regulated equity and derivatives exchanges as members with a total market capitalisation of over US$50 trillion. Mr Arculli continues to serve as an Independent Non-Executive Director of the Hong Kong Exchanges and Clearing Limited having served as its Chairman for six years from April 2006 to April 2012. In addition, he serves on the boards of several major listed companies and not-for-profit organisations in Hong Kong and elsewhere.
Mr Arculli has a long and distinguished record of public service. In 2000, he succeeded HRH the Duke of Edinburgh as Chairman of The International Award Association, a youth development programme present in some 100 countries – a position he held until November 2007. He was a Non-Official Member (November 2005 – June 2012) and later appointed as Convenor of the Non-Official Members (December 2011 – June 2012) of the Executive Council of the HKSAR Government. He was also a former member of the Legislative Council of Hong Kong (1988-2000) and the Chairman of the Hong Kong Jockey Club between 2002 and August 2006.
In 2005, the City University of Hong Kong conferred on Mr Arculli an Honorary Degree of Doctor of Social Sciences. In 2010, the Hong Kong University of Science and Technology conferred on him an Honorary Degree of Doctor of Laws. Mr Arculli was called to the English and Hong Kong Bars and is currently a solicitor in England and Wales and in Hong Kong.