Mr Rimsky Yuen, SC, JP, Secretary for Justice, Government of HKSAR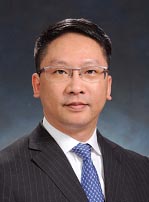 Mr Rimsky Yuen, SC, JP,
Secretary for Justice,
Government of HKSAR
Mr Yuen specialises in civil litigation, especially commercial disputes. His practice includes advisory and court works relating to contract disputes, shareholders and partners disputes, corporate and personal insolvency, trusts, banking and financial products disputes, international trade and arbitration.
Mr Yuen was appointed Senior Counsel in 2003 after 15 years of practice. In addition to commercial disputes, his practice has expanded to include regulatory matters and judicial reviews after becoming a Senior Counsel. He also served as an arbitrator in international arbitrations and a mediator in commercial disputes.
Mr Yuen was appointed a Recorder of the Court of First Instance of the High Court in 2006. Since then, he has handled various civil litigations as a Recorder of the Court of First Instance of the High Court for a month every year.
Mr Yuen has been involved in various public duties including: Member of the Judicial Officers Recommendation Commission, Non-Official Member of the Independent Commission Against Corruption Advisory Committee on Corruption, Chairman of the Transport Advisory Committee, Non-executive Director of the Mandatory Provident Fund Schemes Authority and Council Member of the Hong Kong Institute of Education.