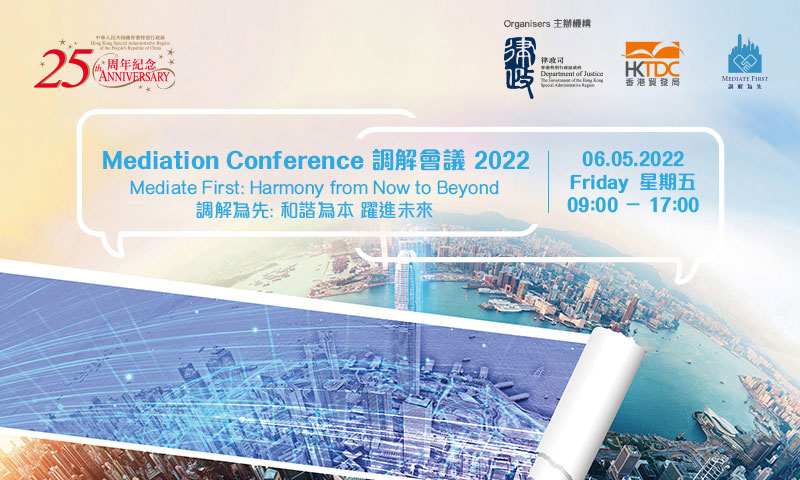 Mediation Conference 2022
Mediate First: Harmony from Now to Beyond

Free Registration / Online Broadcast
Date: 6 May 2022 (Friday)
Time: 9:00 am – 5:00 pm
Venue: Hong Kong Convention and Exhibition Centre (S Series)
Mode: Hybrid
The Conference will be conducted in English, with simultaneous interpretation in Cantonese and Putonghua
5.5 CPD points have been awarded by the Law Society of Hong Kong, the Hong Kong Mediation Centre, the Mainland - Hong Kong Joint Mediation Center and the Financial Dispute Resolution Centre.

6 CPD points have been awarded by the Hong Kong International Arbitration Centre and the Hong Kong Mediation Accreditation Association Limited.

(Updated in Aug 2022)
Morning Session
Panel Session 1: Cross-boundary Family Disputes: the Potential of Reciprocal Recognition and Enforcement of Family Mediated Settlement Agreements in GBA

Family disputes involve emotions and personal relationships; mediation, rather than litigation, may come to help to resolve the disputes amicably. This panel will discuss the mechanism under the new Mainland Judgments in Matrimonial and Family Cases (Reciprocal Recognition and Enforcement) Ordinance and in the light thereof, explore how a reciprocal recognition and enforcement mechanism for family mediated settlement agreements may come into place in the Greater Bay Area.
Panel Session 2: Mediating Disputes during Covid-19

Covid-19 may seem to have slowed down our life. However, disputes do not stop because of Covid-19. Under this new norm, novel disputes of different kinds and values arise on a daily basis. This panel will explore why mediation is the best way to solve Covid-19 related disputes, from high value disputes under the CEPA mediation mechanism to lower value disputes that could fit into the specific dispute resolution schemes offered by FDRC and eBRAM.
Afternoon Session
Panel Session 3: Metaverse: Happily Ever After or a Dangerous Start?

Welcome to the Metaverse, where an adventure awaits! In here, you will be surrounded by cryptocurrencies, non-fungible tokens (NFTs), blockchains, initial coin offerings (ICOs) and all sorts of novelties. For your safety and utmost security for this journey, do pay attention to our panel where we will illustrate the possible legal issues behind and what may cause disputes to arise and how mediation may be the most suited means for resolving such disputes. Buckle up and we wish you all an enjoyable journey.
For registration of the Conference, please visit https://mediation-conference.oneclickgolive.com/en/
For details on other events in Mediation Week 2022, please visit https://www.mediationweek2022.com/mainIndex.html