Yearly Review of the Prosecutions Division 2008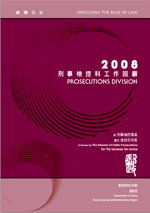 The Yearly Review of the Prosecutions Division 2008 was released on 23 April 2009. This is the eleventh Yearly Review of the Prosecutions Division since 1997. Through this, we describe the activities of a prosecution service which placed a premium upon reform throughout 2008, both as a means of modernising itself and of improving the quality of criminal justice. Our core business was the effective prosecution of crime, and close liaison was maintained with our criminal justice partners and prosecutors elsewhere in the development of anti-crime strategies. We applied prosecution policy fairly and firmly in the best interests of the community we serve.
In his statement at the media briefing
held on 23 April 2009, Mr I Grenville Cross, SC, Director of Public Prosecutions, said:-
Today we report to the public upon the work of the Prosecutions Division of the Department of Justice in 2008, which was an eventful year for our prosecutors. We strengthened our capacity to prosecute all types of crime, and prosecutions were fairly and effectively conducted. The quality of justice available to victims and witnesses was enhanced, and the interests of those accused of crime were safeguarded. Close collaboration with local law enforcers was pursued, and liaison with prosecutors elsewhere yielded positive results. Criminal justice reform was accorded a high priority, and in key areas our processes were modernised. Transparency was embraced, and we engaged with the community in all areas.
Topics include:
Director of Public Prosecutions

A Modern Prosecution Service

Prosecution Policy in 2008
Criminal Justice Initiatives
Strategic Development Programme 2007-2012
Code for Proseuctors
Director's Advisory Group
Standing Committee on Disclosure
International Association of Prosecutors

Recent Developments and the Prosecution of Crime

Animal Welfare
Asset Recovery
Basic Law and Bill of Rights
Commercial Crime
Copyright Crime
Coronial Inquiries
Corruption
Court Specialists
Criminal Appeals
Customs and Excise
Domestic Violence
Environmental Protection
Food and Environmental Hygiene
Gambling
Immigration
Inland Revenue
Judicial Review
Labour and Occupational Safety
Narcotics
Obscene Articles and Child Pornography
Social Welfare
Technology Crime
Terrorism
Triad and Organized Crime
Trial Preparation
Victims of Crime and Vulnerable Witnesses

At the Courts

Major and Interesting Cases

Organization and Structure

Operation of the Division
People in Prosecutions
Court Prosecutors
Para-legal and Administrative Support Staff
The Administration Unit

Prosecutorial Work

Performance Pledges
Conviction Rates
Advices, Trials and Appeals : Caseload, Facts and Figures
Bilingualism
Briefing Out Cases

Contacts with Others

Contacts with the Community
Contacts with the Mainland and Macao
Contacts with Visitors
International Events

Career Development

Guest Speaker Programme
Training and Continuing Legal Education

Prosecutors in Profile

Achievements in 2008
Out of Court

Conclusion : Moving Forward

Appendices
Copies of the Yearly Review can be obtained from the Reception Counter of the Prosecutions Division on 5/F, High Block, Queensway Government Offices, 66 Queensway, Hong Kong.
Go to Top